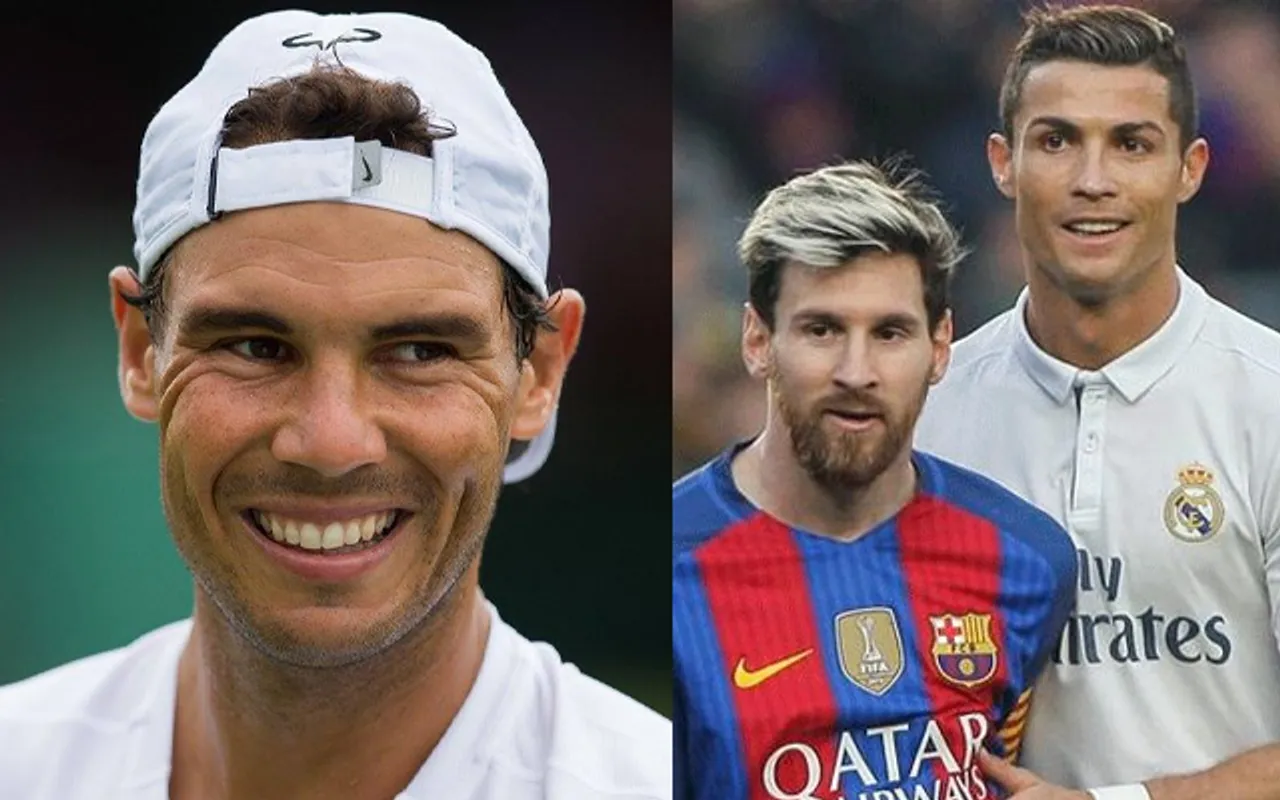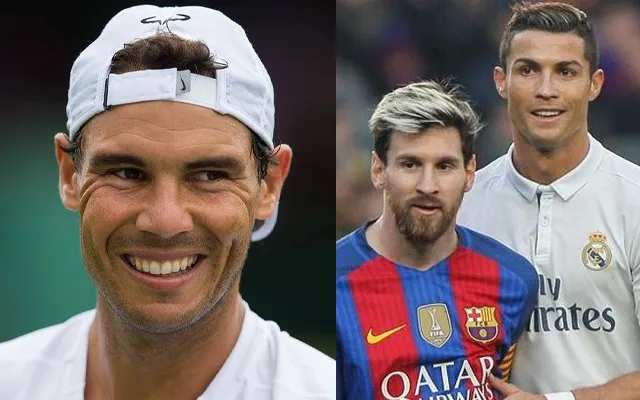 Rafael Nadal, Lionel Messi & Cristiano Ronaldo (Source: Twitter)
One of the finest tennis players in the world, Rafael Nadal's enthusiasm for football is no secret. While the debate over who is the greatest soccer player of all time (G.O.A.T) between Lionel Messi and Cristiano Ronaldo has been going on for ages, some fans have asked Nadal to choose his favourite among the two legendary footballers.
Nadal, who has been sidelined for most of 2023 due to injury, was surrounded by a few fans while on holiday in Greece. The Spaniard gladly posed for a photograph before being confronted with an unexpected question from one of the fans. In a viral video, a fan asked Nadal, "Messi or Ronaldo?" to which he responds, "Messi is better, but I'm a Madrid fan".
Watch the video below: 
While on holiday in Greece, Rafael Nadal says Messi is better than Ronaldo 🤝⚽ pic.twitter.com/kwZkpgsMrq

— Luigi Gatto (@gigicat7_) July 23, 2023
Given Nadal's love for Madrid, one would have expected the 37-year-old to lean a bit towards the Los Blancos great. The Portugal skipper is arguably the very best in Madrid history, registering a number of impressive records during the course of his nine seasons with the Spanish club.
I enjoy seeing Messi, even though he is not in my team: Nadal said in 2020
This is not the first time Nadal has faced a similar question. During an interview with TNT in 2020, the former World Co. 1 responded that Messi would be the best for Barcelona and Ronaldo for Real Madrid. Meanwhile, the two star strikers are no longer part of Europa League football. While Ronaldo moved to Saudi Arabian club Al-Nassr earlier this year, Messi recently made his debut for Major League Soccer (MLS) club Inter Miami in the United States.
"Messi is better than Cristiano for Barca and Cristiano is better than Messi for Real Madrid. We have to enjoy who probably are the best two players in the world and it is very fortunate that we have them in La Liga. I, as a Real Madrid fan, enjoy seeing Messi, even though he is not in my team, and being lucky enough to see him every weekend, as it must be for Barcelona fans with Cristiano, but obviously I'd like to have Messi in Madrid," Nadal had said.