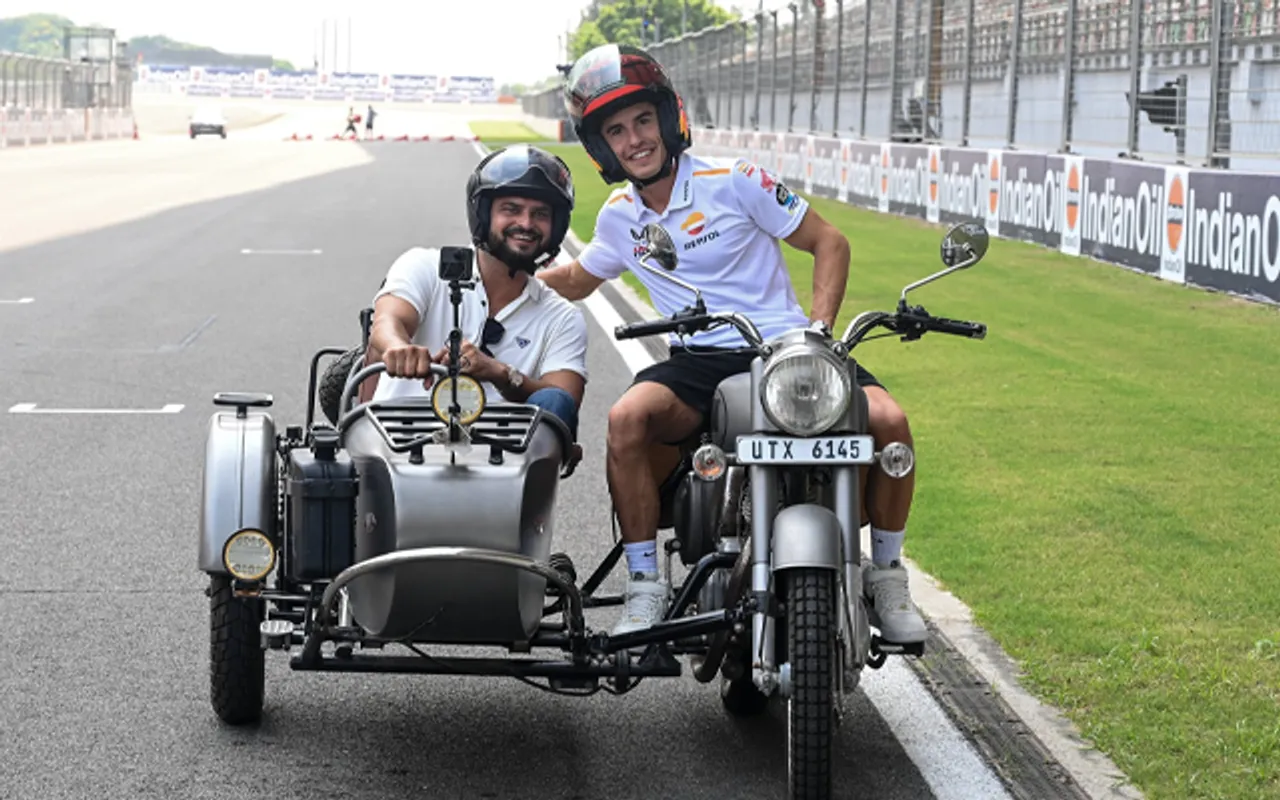 Former India cricketer Suresh Raina was spotted with six-time world champion Marc Marquez ahead of India's first-ever MotoGP Grand Prix. The legendary racer will compete in the highest class of motorcycle road racing events at the Buddh International Circuit in Greater Noida, Uttar Pradesh from September 22 to 24.
More than one lakh spectators are expected to attend the three-day event. The MotoGP Bharat will also feature some of the biggest names in the racing world including Francesco Bagnaia of Ducati, Marc Marquez of Repsol Honda Team, Marco Bezzecchi of Mooney, Brad Binder and Jack Miller of Red Bull KTM, Jorge Martin of Prima among others.
The 30-year-old Marquez has won the 2013, 2014, 2016, 2017, 2018 and 2019 seasons of MotoGP. Fondly known as 'Ant of Cervera', Marquez is only behind Valentino Rossi (7-time winner) and Giacomo Agostini (8-time champion). He is currently ranked 19th in the ongoing season with 31 points.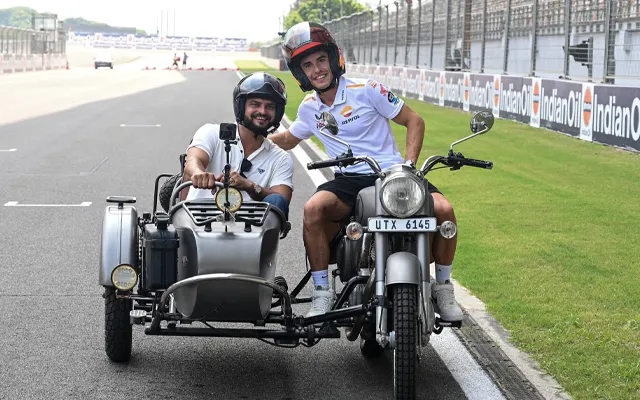 Suresh Raina with Marc Marquez (Source: Twitter)
Meanwhile, hours before the marquee event, Marquez had a visit from one of India's prominent sportsmen. Raina, who lives in Noida (a city in Uttar Pradesh), made the most of the opportunity to meet the Spaniard and enjoyed a ride with him to make the moment even more memorable. An image of the two sitting on the iconic 'Sholay' bike is doing the rounds on social media.
The former Chennai Super Kings vice-captain also took to his Instagram account to share a video of their bike ride. Raina captioned the post: "Revving up the excitement as my home state, Uttar Pradesh is hosting the upcoming Moto GP. Wishing all the teams the best as they take on the Buddha International Circuit!"
He's a born leader: Raina praises Shubman Gill ahead of 2023 World Cup 
Raina has backed young India opener Shubman Gill to replicate the heroics of current captain Rohit Sharma in the 2019 World Cup. Raina believes Gill is a born leader and can play well against both spinners and fast bowlers.
"What Rohit Sharma did in the 2019 World Cup; Gill could do the same for India this year. He'll get 50 overs to bat, so it's a takeoff point for his batting. I think he's a born leader and he shows that in his game," Raina said.
"The form he's playing in with his hand speed – it's extremely strong. Spinners don't know where to bowl to him and if fast bowlers don't swing the ball, he can play those really well with a straight or a flick. His mindset will not stop here," he added.
Here's how fans reacted to the viral image of Suresh Raina and Marc Marquez: 
Suresh Raina and Marc Marquez ahead of the Indian MotoGP Grand Prix 🔥#SureshRaina #MotoGP #MarcMarquez pic.twitter.com/92JIXne6kT

— Master of Puppets (@IndianThatsIt) September 21, 2023
Thala crying in the corner 😭😭😭

— Sports News Cricket (@JaySola71596178) September 21, 2023
The Most Selfless Cricketer Chinna Thala Suresh Raina 😍💛

— Aufridi Chumtya (@ShuhidAufridi) September 21, 2023
Raina Supremacy 🤗

— Ash (@Ashsay_) September 21, 2023
Bade log kuch bhi track pe chala sakte hai 🥲🥲🥲🥲

— Vijay Kothari (@vijayvk97) September 21, 2023
Fixed It pic.twitter.com/KjGJYfX0UH

— memes_hallabol (@memes_hallabol) September 21, 2023
🔥🔥

— Nagraj K Seegi (@Nagraj_07) September 21, 2023
Really beautiful bike

— Mintu Dutta (@MNGamin65372627) September 21, 2023