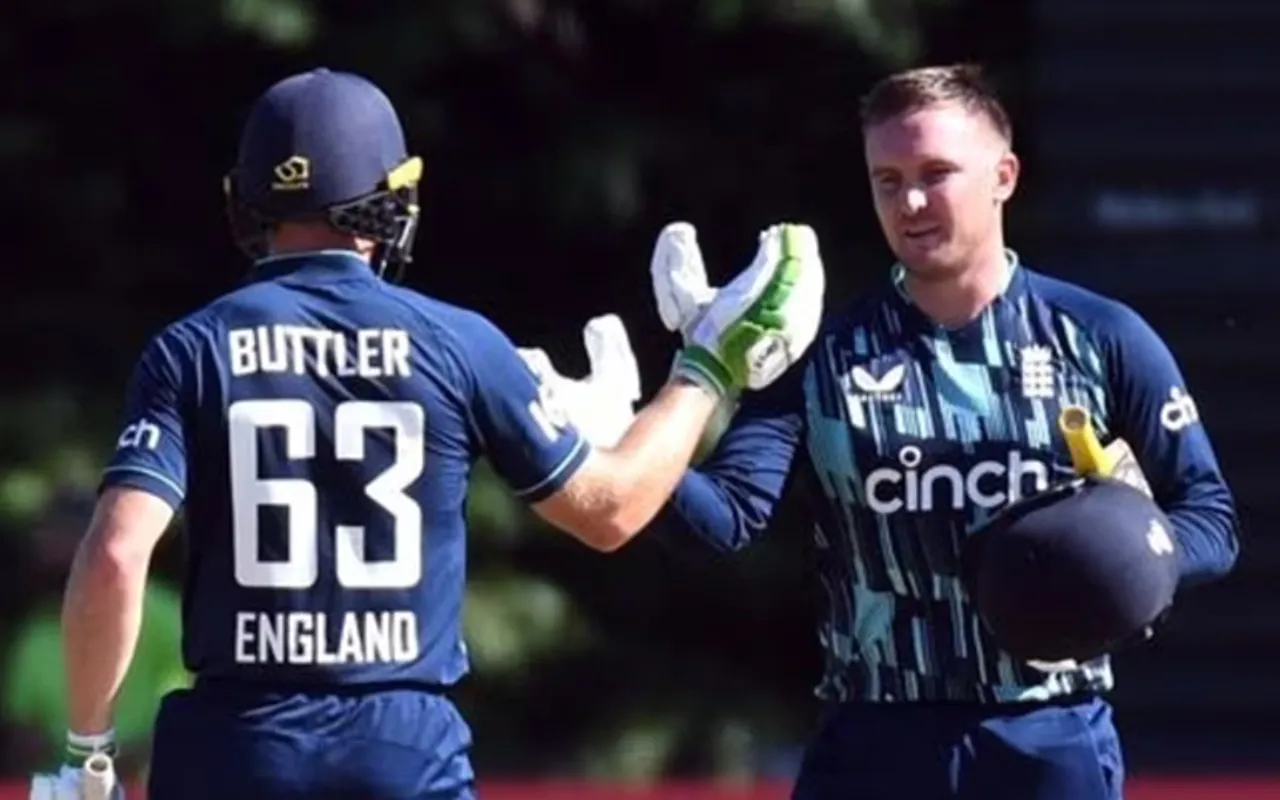 The English Cricket Team heads into the 2023 ODI Cricket World Cup as one of the favorites. Jos Buttler and his men are the defending champions after winning the title in 2019. Eoin Morgan's team beat Kane Williamson's New Zealand side in a thrilling contest.
England got their first title in thrilling fashion after the finals went into super-over for the first time. One English player who played a huge role in the 2019 World Cup win will not be playing this year. The player in question is Jason Roy, the 33-year-old has been dropped in favor of Harry Brook.
The decision has created a huge debate in the English cricket fraternity. Harry Brook was not originally a part of the World Cup set-up. The 24-year-old was drafted into the side for the recent ODI series against New Zealand which England won 3-1.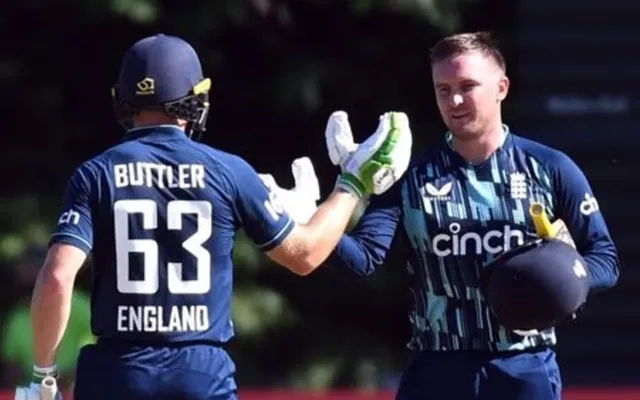 Jos Buttler and Jason Roy (Source-twitter)
Jos Buttler speaks on Jason Roy's snub from the World Cup squad
English captain Jos Buttler recently spoke to SKY Sports. The 33-year-old was tasked with the job of having a word with Jason Roy about his World Cup snub. The English skipper spoke on how difficult the job was considering Jason Roy is a very good friend of Jos Buttler.
The English skipper said "I don't think anytime is easy. It is part of the job as captain that is not enjoyable, whether they're great friends or not, it's not a nice job to do. It is my responsibility to give the news. He's really a great mate of mine, so it was a really tough call to make".
Jason Roy had not been in the greatest of forms with the bat. His recent struggles with fitness also did not help his cause. Harry Brook, made a great start to his England career. The right-hander batter could only score 41 runs from the 4 games during the recent ODI series.
Jos Buttler though seemed to get behind the idea of Harry Brook in the English team. The 33-year-old England skipper praised the versatile cricketing talents brought to the team by Harry Brook. Buttler said to SKY Sports "Jason will be the top-order reserve, absolutely. Harry, we do feel gives us versatility – he can cover one to six in the batting order, which is obviously something that's advantageous in a squad. But good players miss out, it's the very brutal nature of sport."