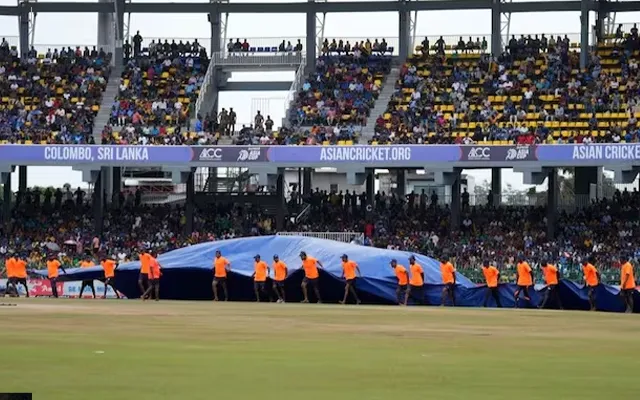 Asia Cup 2023 (source-twitter)
The Asia Cup 2023 series began with uncertainty. Pakistan was originally set to host the tournament, but the Indian team declined to tour their neighbours. Sri Lanka was then named the hosts of the tournament after India agreed to play the games.
The tournament was played under the Hybrid model as Pakistan got to host a few games as well. All the Indian matches were played in Sri Lanka, including the two blockbuster India-Pakistan games. The tournament though saw rain as a constant fixture but it went ahead smoothly thanks to the ever-alert ground staff.
Jay Shah shows appreciation towards the ground staff –
The vice-president of the Indian Cricket Board, Jay Shah is in Sri Lanka to watch the Asia Cup 2023 final. The game started late due to rains coming down before the 1st ball could be bowled. The ground staff quickly covered the ground just as the weather showed signs of drizzle.
This alertness from the foot soldiers has won the hearts of everyone. Jay Shah took to Twitter to announce good news for the men who made it possible. According to Shah, the Asian Cricket Body and the local Sri Lankan body had come up with a huge gesture. The two bodies had decided to reward the men with a cash prize of US Dollars 50,000.
🏏🏟️ Big Shoutout to the Unsung Heroes of Cricket! 🙌

The Asian Cricket Council (ACC) and Sri Lanka Cricket (SLC) are proud to announce a well-deserved prize money of USD 50,000 for the dedicated curators and groundsmen at Colombo and Kandy. 🏆

Their unwavering commitment and…

— Jay Shah (@JayShah) September 17, 2023
Rain played havoc during the Super -4 game between India and Pakistan last Sunday. The game went into the reserve day and yet again rain came down to delay the start. The covers were pulled at the right times on all occasions. The commentators also praised the presence of mind as the staff covered each part of the ground to keep it ready for a start.
The effort was also visible during Thursday's game between Sri Lanka and Pakistan. It was a virtual semi-final and rain delay meant it was a 47-over game. There was more rain during the course of the game as it came down to 42-over per side contest.
Despite all the obstacles and the demands of the fans, broadcasters, and the teams, the ground staff were always ready. This move from the Sri Lankan and Asian Cricket bodies is surely set to win lots of hearts.